Pre & Post Natal Exercise
PRE NATAL
From the moment it's confirmed, a mother's main focus during pregnancy is the health of her baby. No alcohol, no smoking, no shellfish, no heavy lifting…no exercise – wrong! The previous factors can be harmful to your baby, but exercise can make your baby's arrival into the world a safer, quicker, healthier journey for you both.
Increase…
Mood

  

Quicker

Labour

   Endurance  

Energy

  

Cardio Fitness

  

Sleep

  

Self Image

  

Muscular Strength

  

Bounce back for your body post-partum
Decrease…
Blood Pressure
Anxiety
Back Pain
Risk of pregnancy related complications
Pregnancy is a challenge, but don't make it harder than it needs to be, regular exercise has shown numerous health benefits for mother and baby. Exercise with me in an environment you're comfortable in…pool, studio, in a park, gym or in your own home. With my specialist knowledge we will work together on making you a stronger, healthier, happier mother from now through to labour.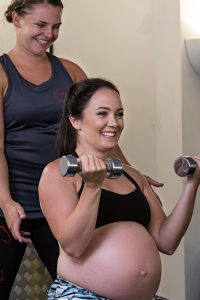 POST NATAL
On the arrival of a new baby, your needs can become secondary, especially exercising. Your body's changed, you're tired, there never seems enough time, and who will look after the baby?!?
Home exercises are a great way to combat some of these stresses. Simple, short workouts created with you in mind, and no equipment needed.
If the gym environment is more your scene, I am based at a friendly, welcoming leisure centre in Plymouth with an onsite crèche. Contact me for more information.